ReSound LiNX Quattro is small, discreet and has the longest-lasting battery. You get power that lasts more than a full day – without having to fiddle with batteries.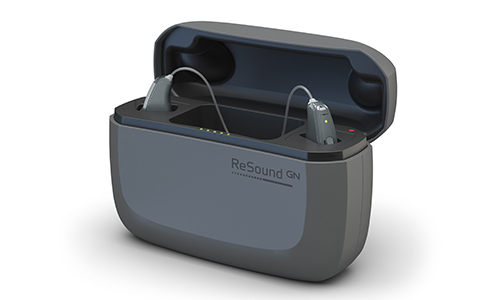 ---
ReSound LiNX 3D
---
ReSound Wireless Technology
2.4 GHz is superior to conventional wireless systems for hearing aids because it allows high quality, direct audio streaming in stereo with no intermediate devices. That's why it was a technological breakthrough when Resound put 2.4 GHz technology in their hearing aids back in 2010. Currently they are at the 3rd Generation of 2.4 GHz technology for hearing aids.
ReSound wireless accessories stream directly to the hearing instruments without the need for an intermediate device to relay the signal. This allows you to hear voice and other audio from outside the range of any hearing instrument without neck-worn devices and without lip-sync issues or artefacts.
​
There are currently five wireless accessories to improve your quality of life:
---
ReSound Unite Remote Control 2
Offers complete visual command, making it easy to change programs and adjust volume.

---
ReSound Unite TV Streamer 2
Streams crystal clear stereo sound directly to the hearing instruments up to 7 metres from audio devices such as TV, computers or music systems.

---
ReSound Unite Phone Clip+
Streams sound from the mobile phone directly to both hearing instruments. When not streaming a phone conversation, the Phone Clip+ can be used as a basic remote control for hearing instruments.

---
​ReSound Micro Mic and the Multi Mic
The Micro Mic and the Multi Mic are the latest addition to the wireless accessory family. They are discreet clip-on microphones that increase signal-to-noise ratio so you can understand speech in challenging listening environments.

---
ReSound Micro Mic
The ReSound Micro Mic transmits speech directly to your hearing instruments from a range of up to 25 meters (Clear line of sight). It allows you to hear speech clearly even when noise, distance or reverberation are issues.

Good to use when speaker is beside or behind the hearing aid wearer

Drop control – mutes transmitted signal momentarily when dropped from heights above 75 cm

Can be paired and shared with any number of ReSound wireless or ReSound Smart hearing aids

Up to 25 meter range (clear line of sight)

Talk time: Typical 10 hours

Extremely small and discreet
---
ReSound Multi Mic
The ReSound Multi Mic is a premium quality portable device that streams speech and audio directly to your hearing instrument. The Multi Mic is truly a "multipurpose" device, as evident from the features below.
Good to use when speaker is beside or behind the hearing aid wearer.

Drop control-mutes transmitted signal momentarily if dropped from heights above 75cm

Can be paired and shared with any number of ReSound wireless hearing aids

Talk time:
Microphone mode: Typical 11 hours
Line-in mode: Typical 11 hours
Telecoil mode: Typical 7 hours
FM mode: Typical 10 hours
Automatically switches to optimized table mode (omnidirectional) to enable pickup of multiple speakers when placed horizontally.

Direct streaming from almost any sound source, including FM (FM receiver required), telecoil and line-in.

Has a range up to 25 meters(clear line of sight)